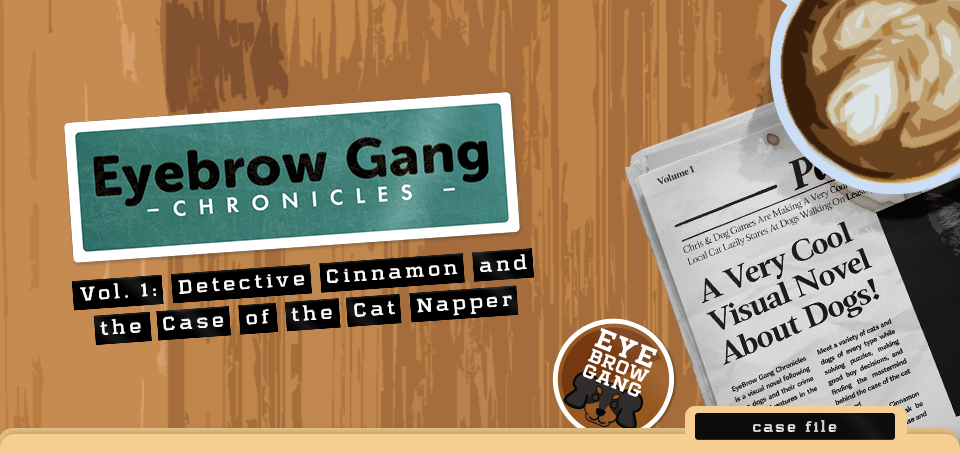 EyeBrow Gang Chronicles Vol. 1: Detective Cinnamon and the Case of the Cat Napper (In-Progress)
Detective Cinnamon at PRGE!
---
Hello!

I have pretty cool news!
A while ago I got an email from Portland Indie Game Squad (PIG Squad),
about their booth at Portland Retro Gaming Expo (PRGE).
Basically, they highlight indie games over the three day expo at their own both.
30 developers over 3 days. Ten per day.
Anyone could apply.... so I did!
Wasn't really expecting to honestly.
I announced this game a while ago after I met my goal of finishing the demo,
but I wasn't planning on really showing the game until next year when I had more created.
But! This seemed like a cool opportunity.
And PIGS is cool. I've been to a few of their things.
Actually, the most fun I've ever had in Portland was the first design week event of their's that I went to.
I got to play demos for The World Next Door, Arcade Spirits, Breakforcist, and Gato Roboto.
All of which I've bought!
Except Arcade Spirits. I'm sorry I'm waiting on the console release, but I have done my best to support it outside of that.
And going to that event basically fortified my own desire to create a video game.
Ok, anyway so I got accepted so EyeBrow Gang Chronicles Vol. 1 is gonna be at PRGE on Oct. 18th!
I made stickers to give out.
I only have 25 cause I don't really expect a lot of people to pay attention,
but maybe I should get more. They turned out better than I thought tbh (they're only 1" x 1").
BUT in game news!
I'm going back and redoing all of my cats.
I've never had a cat as a pet before so I'm really bad at drawing cats.
I did live with a cat for a year. His name was Figaro and he was a punk.
Cats have such weird bodies.
They kinda look like dog bodies, but if you start to draw that way it's like... "mmm that looks weird."
Weird bellies. Flat faces. Where are your noses? Curly tail that goes everywhere.
I had to google, "cat tail meanings," so I could better draw the tails.
Dogs are much easier to understand.
Here's a comparison of the first version of Rusty (ugly) and the most recent update I've done (looks like a cat).
*Jeb Bush Voice* Please clap visit me at PRGE. Friday, Oct. 18th.