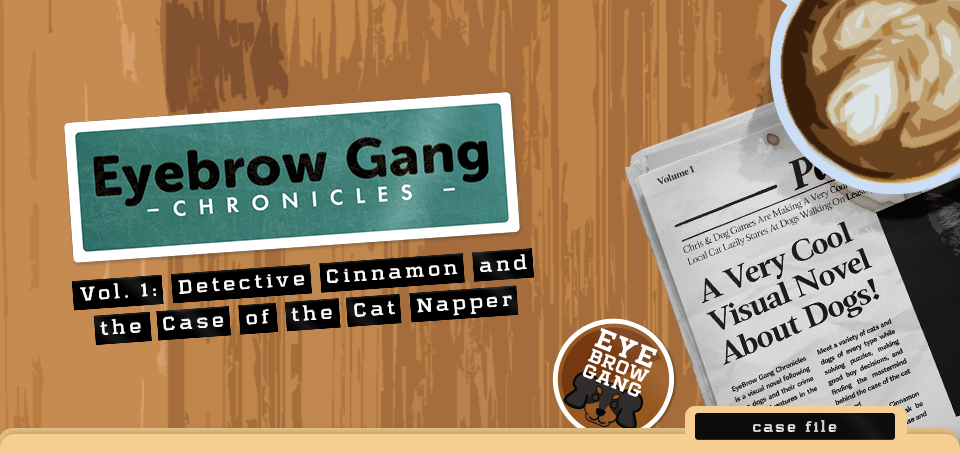 EyeBrow Gang Chronicles Vol. 1: Detective Cinnamon and the Case of the Cat Napper (In-Progress)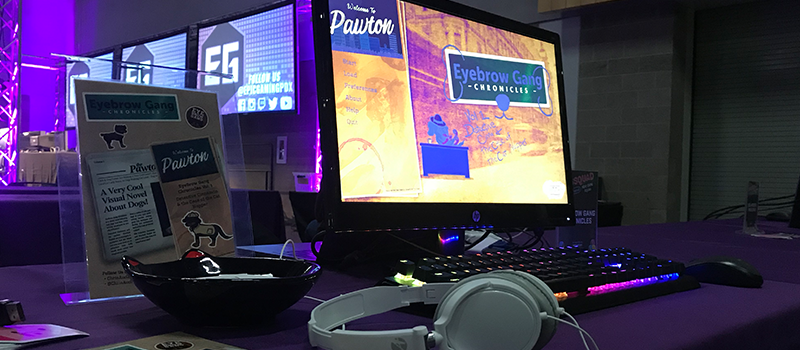 Wow! My partner and I showed off EyeBrow Gang Chronicles for the first time last Friday at Portland Retro Gaming Expo!
Thank you so much to PIGSquad for hosting their indie booth and helping 30+ devs show off their games. It was so much fun sitting there with a bunch of other people who are passionate about making games.
Friday seemed to be heavy with visual novels - there were at least four other visual novels there without including Cinna and Kodiak. You can see a list of games here, but here are the visual novels that were there:
I learned a few things about how I should be showing EyeBrow Gang Chronicles and a few changes to make to the game, but most are pretty simple things like, "Don't show a skip button during a demo because people will click it, skip the entire game, not say anything and just walk away."
For the most part I had really good showing though. One person finished the demo, said it was amazing and then ran to get their friend and make them play 🥺
Visual novels are hit-and-miss with people though. One kid sat down, got ready to play, saw the word 'novel' and instantly stood up and walked away LMAO
Listen, y'all gotta get these kids reading young
I mainly walked away with a lot more enthusiasm for finishing the first volume of EyeBrow Gang Chronicles though. I fully plan to finish the first volume in time to show it off next year.
Of course, that was just Friday though! I went back today to do some shopping and play some other PIGSquad games.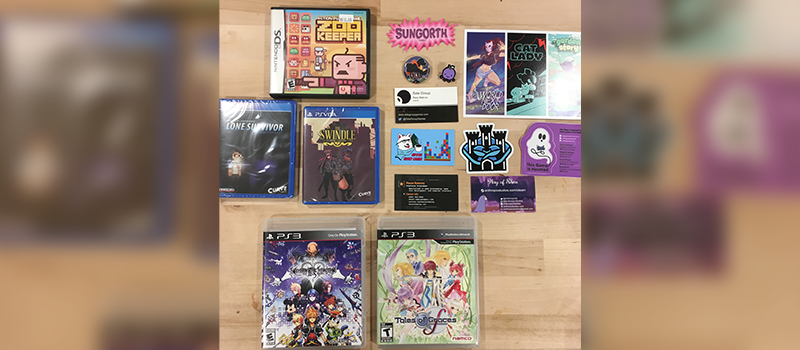 I mainly shop for vita games if I'm buying physical, but the pickings were pretty slim this year. Everyone was basically selling Limited Run Games, which is great, but I had to skip buying a bunch of vita visual novels last year because of getting laid off so I wanted to make up for it this year and there were none to be found! Crazy to see how heavy LRG's presence is though. Some booths were basically only reselling LRG games.
Still grabbed two LRG games that I didn't own plus KH 2.5 and a Tales of game for PS3. My partner got a puzzle game for the DS called Zoo Keeper with two player mode via share play. Plus plenty of stickers and business cards and, my favorite, a little Concord pin from Garden Story.
So that's PRGE 2019! Thank you to everyone who stopped by on Friday and met Detective Cinnamon and Sherlock Kodiak.
Next week I'll be focusing on created an extended demo that covers a majority of the first chapter with the updates graphics and gameplay elements I created for PRGE. Please follow me here on itch.io or on Instagram at @ChrisAndDogGames
Files
DetectiveCinnaVol1-1-mac.zip
172 MB
95 days ago
DetectiveCinnaVol1-1-pc.zip
188 MB
95 days ago